What is PINE?
As the central control unit, PINE connects all motors of slider, pan/tilt and lens unit with the powerful PINE Motion App.
Each PINE can also trigger up to two cameras for automated image capturing.
PINE can control not only Black Forest Motion motor units, but also systems from other manufacturers. Our adapter cables make the switch to PINE a breeze.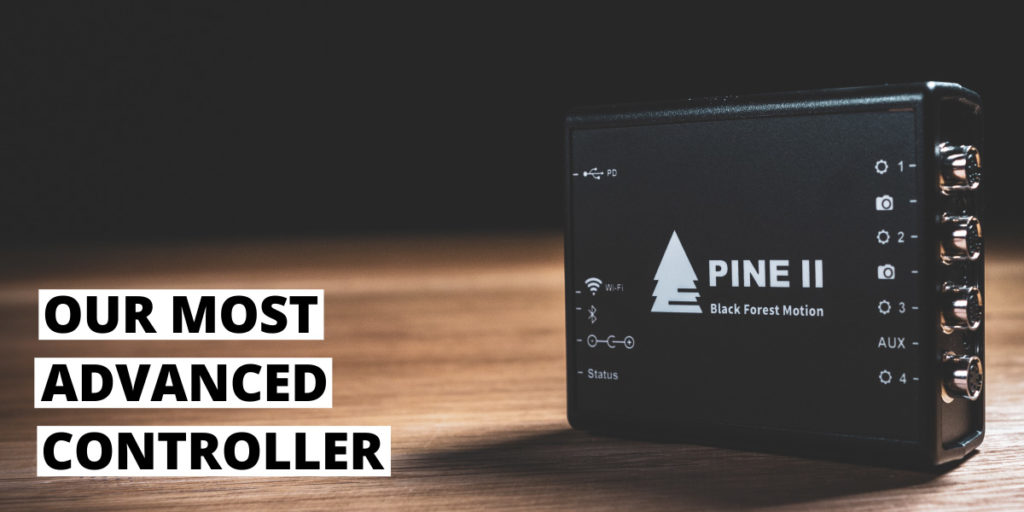 "I have used and worked with a multitude of motion control vendors and many app based systems left me frustrated. The Black Forest Motion System was the first app based motion control unit where I felt I was actually working with it, rather than wrangling it."

Chris Field, Founder of Biolapse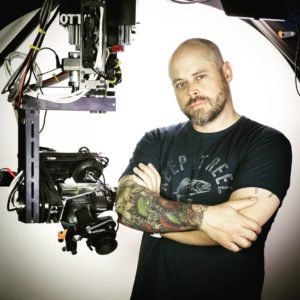 App-Controlled
The PINE Motion App connects to all PINE controllers via Bluetooth, enabling complete operation of the motion control system via Android and iOS smartphones and tablets.
Once all data has been transferred from the app to the controller, the PINE runs autonomously, even if the Bluetooth connection is interrupted.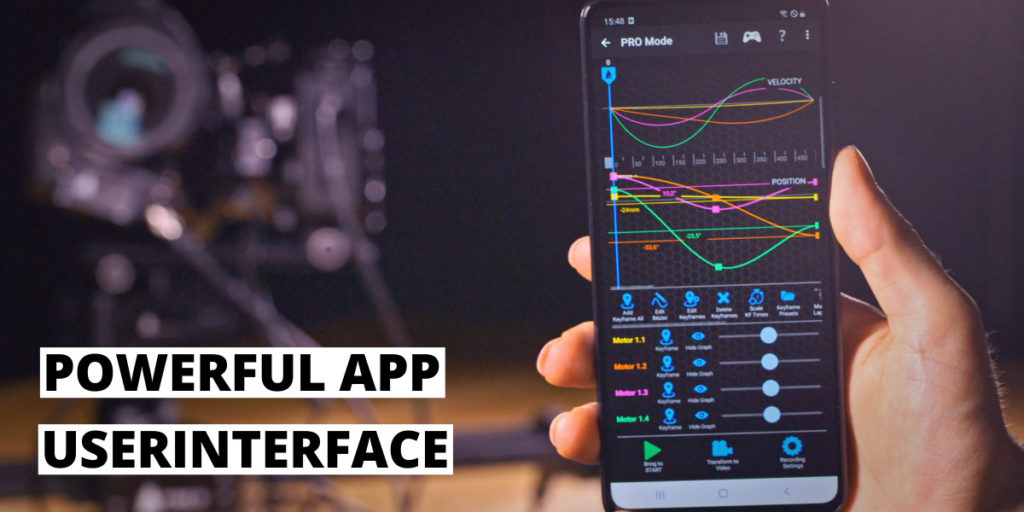 Silent Motor Operation*
Our new PINE II Controller offers nearly silent motor operation thanks to state-of-the-art driver technology. Ideal for audio-critical applications such as interviews or wildlife recordings.
*Only for PINE II Controller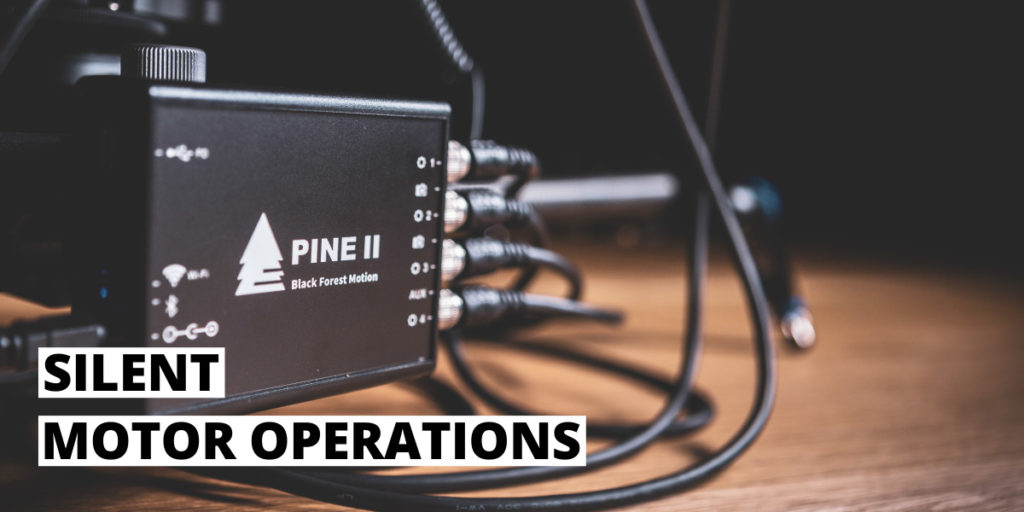 Bézier-Curve Support*
Our new PRO mode supports keyframes with true Bézier curves. This enables the most complex and sophisticated motion sequences for professional applications.
*Only for PINE II Controller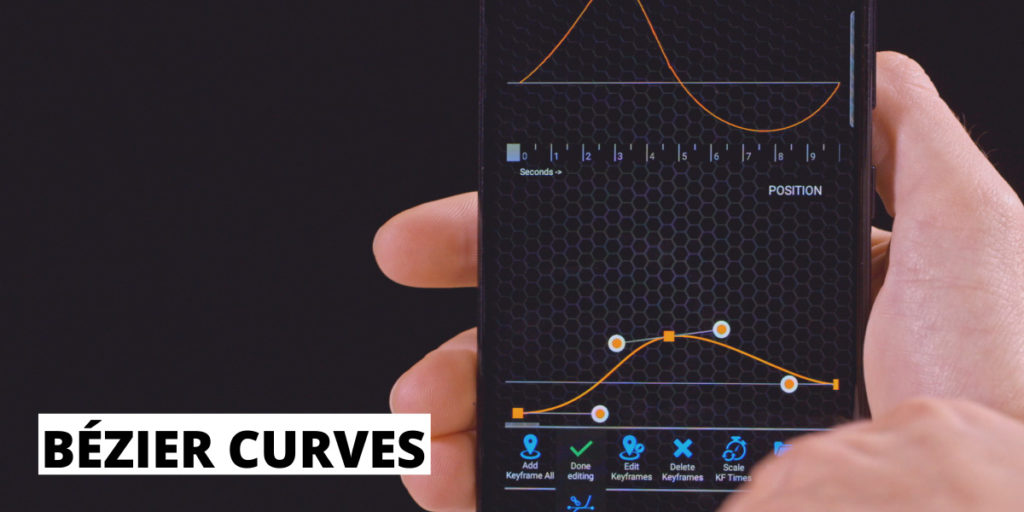 Game Controller Support*
In addition to the PINE Motion app, our PINE II can also be controlled wirelessly and flexibly via a conventional PlayStation 4 game controller. No further components such as a USB dongle are necessary for this.
All joysticks and buttons can be freely assigned via the PINE Motion app. Ideal for fast programming of movements or also for real-time video recordings.
*Only for PINE II Controller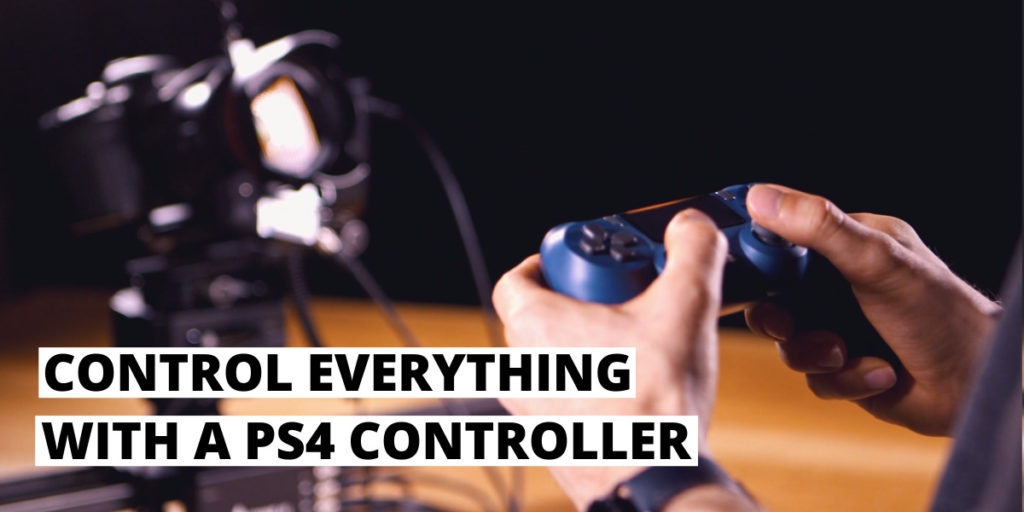 Dual Power Supply*
PINE II can be powered via the DC input as well as via the USB-C connector.
A PowerBank with USB PD (Power Delivery) technology is required to use the USB-C port
The power supply with the higher voltage is prioritized by the controller. This is ideal for changing power supplies on the fly without interrupting the operation.
*Only for PINE II Controller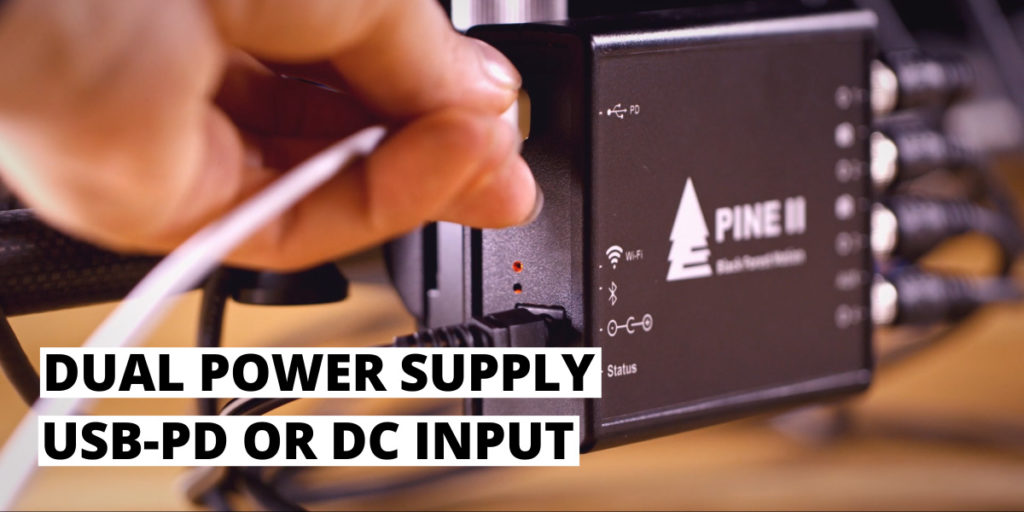 Compatible with Dragonframe
PINE is compatible with the well-known stop-motion software Dragonframe for time-lapse and stop-motion animation.
The PINE controller is connected to a PC or Mac via USB.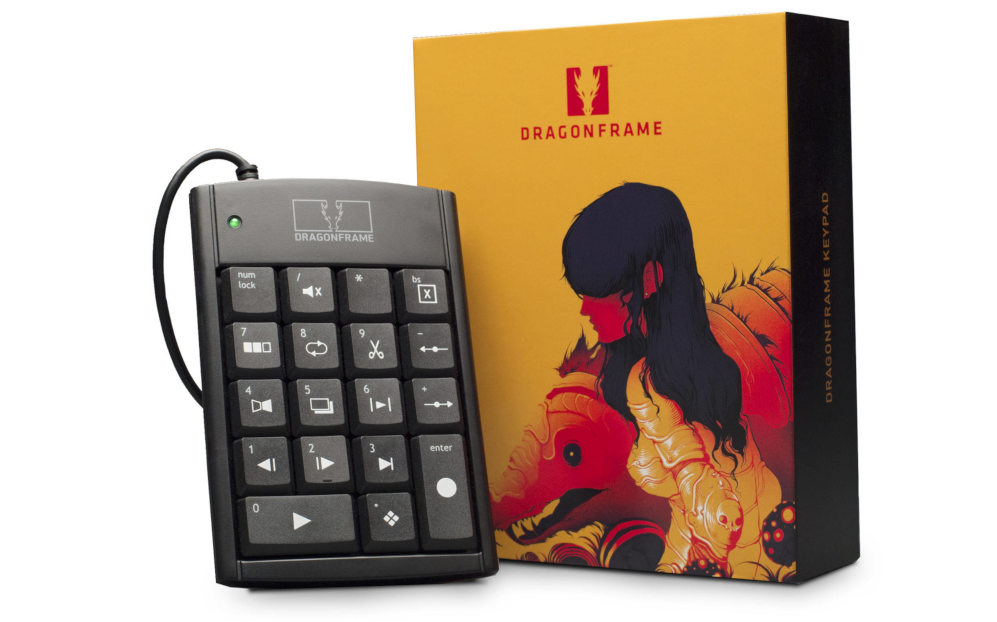 Compatible with Third-Party Systems and ideal for DIY Projects
Using adapter cables, PINE can also be used to control a wide range of camera sliders and rotation units from other manufacturers. The transition to PINE becomes a breeze. Bring your existing motion control system to the next level – the versatile application modes of PINE will fascinate you.
PINE is also ideal for do-it-yourself projects. Save yourself the tedious development of electronics and software with PINE.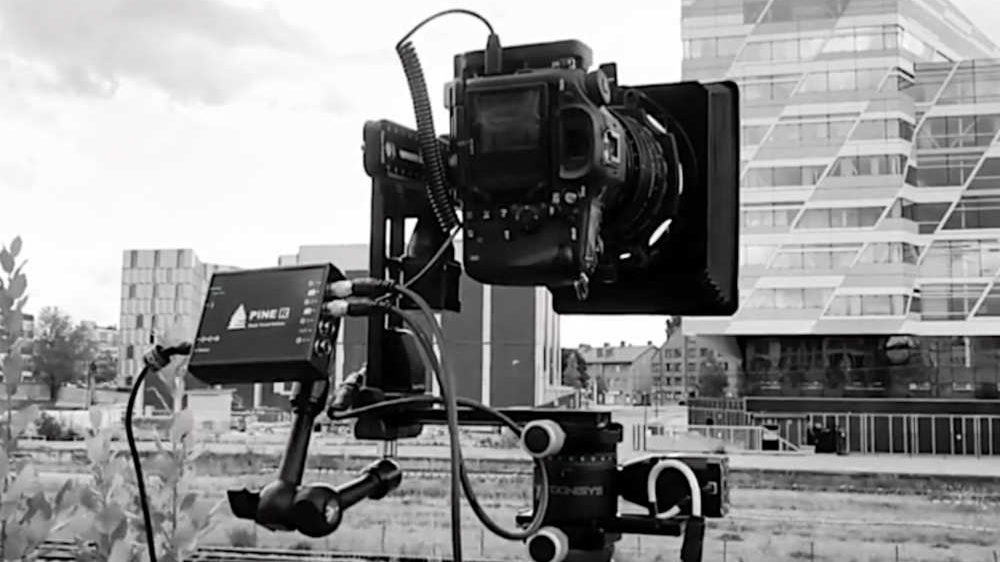 ---
Dynamic Perception Stage Zero Slider
Dynamic Perception Stage One Slider
Dynamic Perception Sapphire Pro Pan Tilt Head
Dynamic Perception Stage R Rotary System
Rhino Motion Slider
Waterbird Multi Slider
Cinectic Axis 360
Cognisys Stackshot Macro Rail
Cognisys Rotary Table
Panocatcher Maestro Head
MDK V5 Pan & Tilt Head
MDK V6 Pan & Tilt Head
PocketSlider PT PRO
PT Pan Tilt Head (PocketSlider)
eMotimo Turntable
PureMoCo Focus/Zoom Unit
GVM Slider
A&J Slider
Specifications
Operating Temperature
-20ºC (-4ºF) to +45ºC (113ºF)
Storage Temperature
-30ºC (-22ºF) to +60ºC (140ºF)
Humidity
10% – 90% non-condensing
Connector Supply
DC Jack 2.1×5.5mm (center positive)
Connector Motors
Hirose HR10A-7R-6S(73) (6 pin Female)
– mating with: HR10A-7P-6P (73)
Connector Kameras
2.5mm TRS Jack (3 pin)
Connector AUX
2.5mm TRS Jack (3 pin)
Connector USB
PINE R
Micro USB

PINE II
USB-C
Motor Type
Bipolar Stepper Motor
Number of Motors
4
Max. RMS Current per Channel
PINE R
max. 1.2A

PINE II
max. 2.5A
(motor current will be reduced if input current > 3.0A)
Max. Motor Speed
(Stepper Motor with 200 Steps per Revolution)
PINE R
max. 3.5 Rev/s or 210 Rev/min

PINE II
Silent Mode: max. 3.0 Rev/s or 180 Rev/min
Dynamic Mode: max. 3.0 Rev/s or 180 Rev/min
High-Speed Mode: max. 20 Rev/s or 1200 Rev/min
Input Voltage
10-24V DC
Input Power
PINE R
max. 15W

PINE II
max. 72W (at 24V and maximum motor current)
Dimensions
99 mm x 77 mm / 3.9″ x 3.0″
Weight
approx. 150 g / 5.3 oz
Wireless Technology
PINE R
Bluetooth Low Energy 4.1 – 2.4 GHz

PINE II
Bluetooth Low Energy 4.2 – 2.4 GHz
Wi-Fi 802.11 b/g/n – 2.4 GHz
Firmware Update Capable
Yes, via USB (with PINE Firmware Updater Utility)

PINE II
USB or OTA (WiFi)
More information about our PINE Controllers can be found in the detailed user manual.