With the PINE Motion App, all motion control products can be controlled wirelessly via the PINE Controller.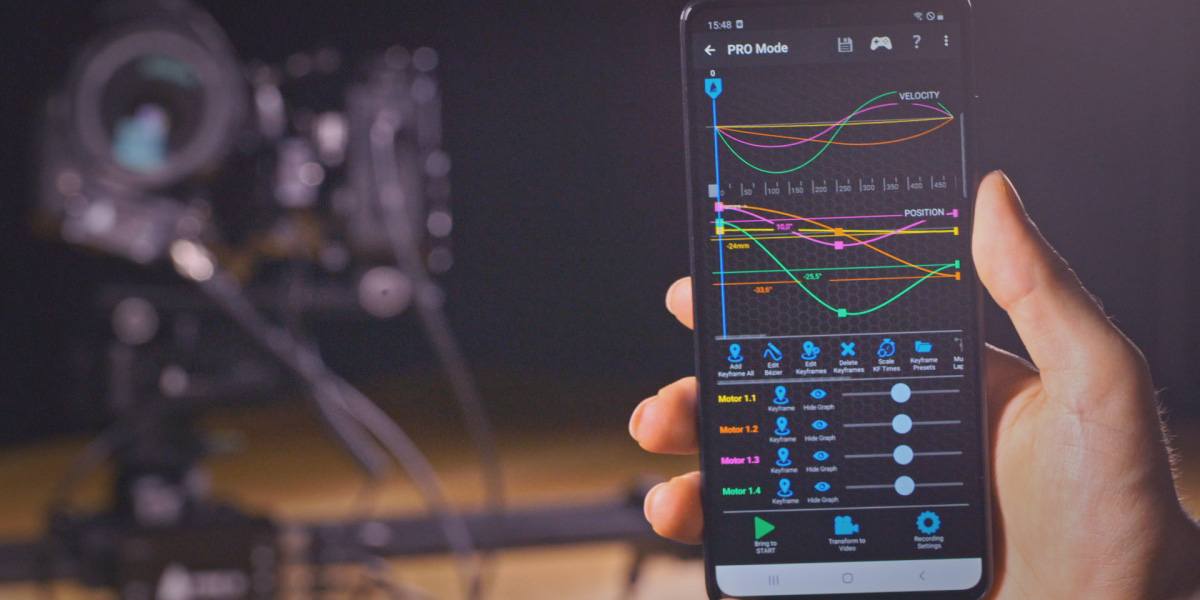 The PINE Motion App connects to all PINE controllers via Bluetooth, enabling complete operation of the motion control system via Android and iOS smartphones and tablets.
Once all data has been transferred from the app to the controller, the PINE controller runs autonomously, even if the Bluetooth connection is interrupted. During a long recording, no active connection between app and controller is needed.
The app is available in German and English.

PINE Motion App is FREE
Our app can be downloaded for free and without hidden costs from the Google Play Store or the Apple App Store.
All functions are directly accessible and ready for use. Only a PINE controller and the motor units are required.
DEMO Mode: Test before you buy
Install our PINE Motion app on your smartphone today, even if you don't own a PINE controller yet. With the built-in DEMO mode, you can explore the entire app without being connected to a real controller.
Our DEMO mode gives you an insight into the various applications of our PINE controllers.
A separate Mode for each Application
The application possibilities of our PINE controllers are very extensive. Therefore, there is a separate and optimized mode within the app for each application. Each mode is precisely adapted to the needs of the respective application.
Time-Lapse Recordings
Video Movements
Giga-Pixel
360-Degree Pictures
3D-Photogrammetry Scans
Astro Tracking
Live Recordings
Turntable
Macro-Photography
Introducing: PRO Mode
With the introduction of our PINE II controller, there is now also a PRO mode in the app.
PRO mode is used for creating real-time video motion and time-lapse recordings together with our motion control units. Special about the PRO mode is the setting of keyframes on a timeline and the support of real Bézier curves.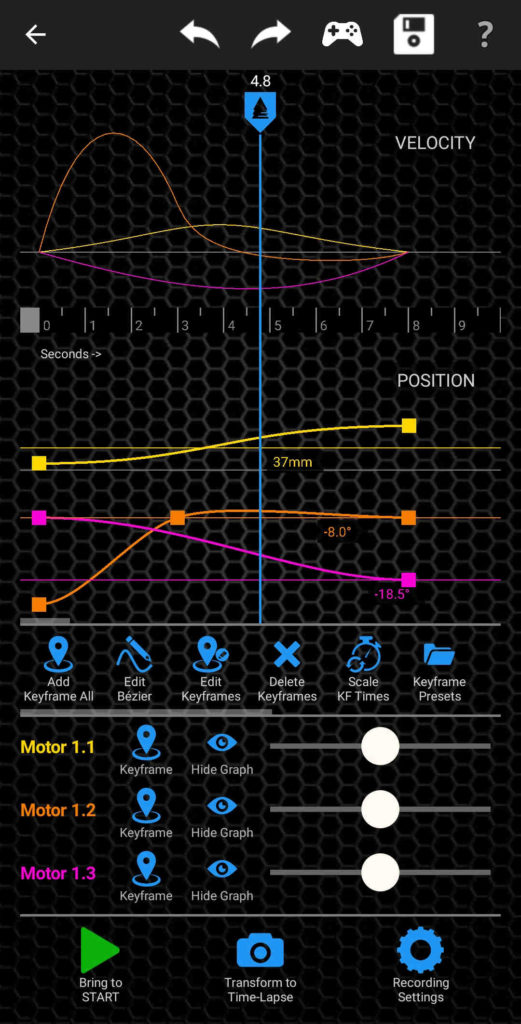 More Highlights of the PRO Mode
Current motor positions are displayed as horizontal lines in the position graph and updated in real time
Switch from video to time-lapse with one tap
Keyframe presets can be saved and loaded as XML files (XML files can also be exported and imported)
Undo and Redo function (accidentally set keyframes or edited curves? Previous states of the keyframes can be easily restored)
Motors can be moved to the current time marker position with a tap
Motors can be moved to the current time marker position while dragging the time marker
Loop (Ping-Pong) mode for video recording
Slave mode for time lapse (interval control via AUX input with external devices like the LRTimelapse Pro Timer or the VIEW
Scaling of keyframes (for linear extension/shortening of movements)
Up to 10 movements (with max. 20 keyframes per motor) can be programmed and recalled
Multi-Lapse function with up to 10 individual movements (allows you to create up to 10 time lapses simultaneously)