Below is an interactive 3D model of a cuckoo clock, which was created fully automated with our 3D bundle.
How it works
Taking multiple images of an object from all possible angles enables the creation of an interactive 3D virtual model of objects using photogrammetry post-processing techniques.
For best results, you'll need a little more equipment for this mode. Your target object rotates on a turntable while the camera moves vertically along the object and tilts at the same time to keep the object in the center of the image.
In this way, PINE automatically captures individual images of your object from different angles, which you can then process to create a virtual model.
Our scanning solution does not include photogrammetric post-processing software or a suitable camera. The system is able to autonomously capture single images of an object from all possible angles with most DLSR and mirrorless cameras. The single images have to be processed with a powerful photogrammetry software like Agisoft Photoscan or Reality Capture to create a final 3D model.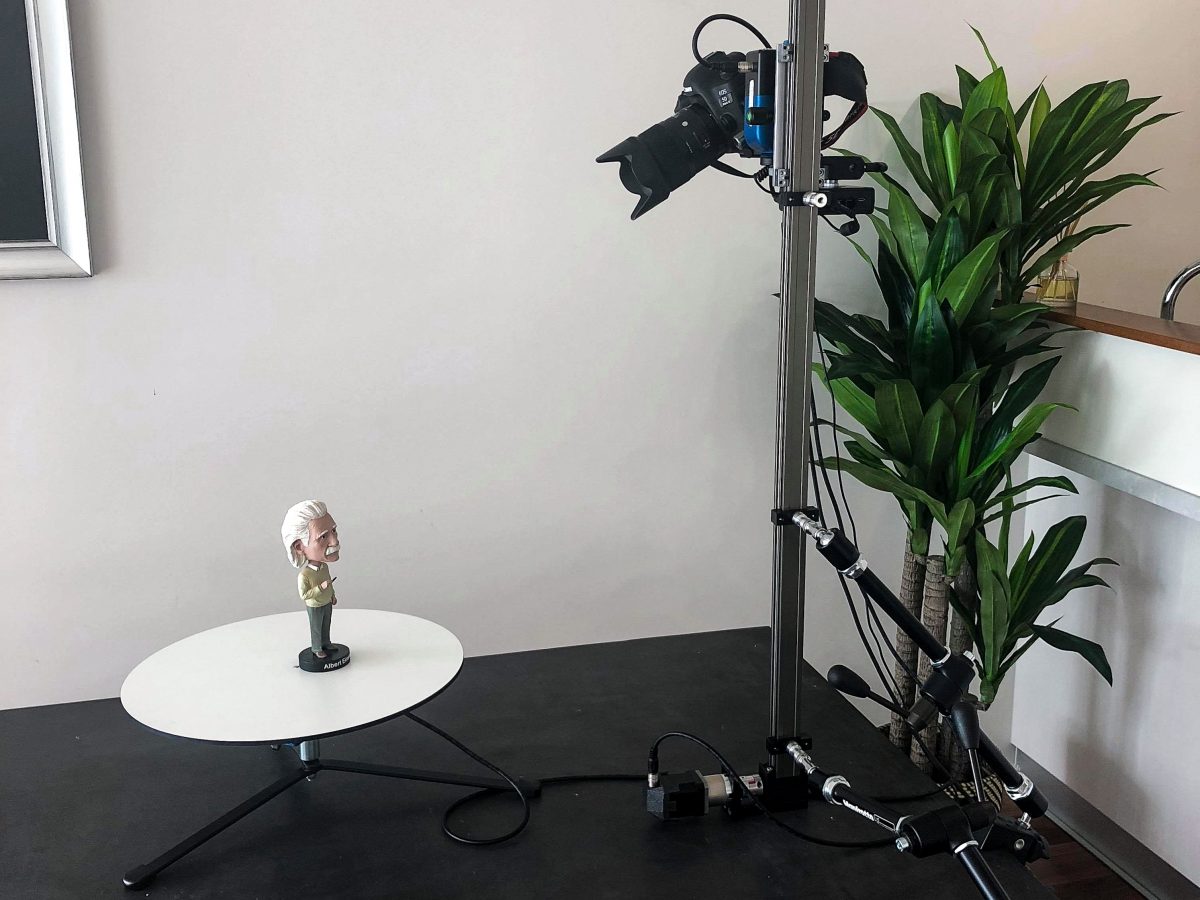 Highlights
Specify number of images
By defining the images per turntable rotation and the number of vertical rows, you can influence the accuracy and detail of the 3D model.
Fully synchronized
PINE rotates your object, moves your camera and even triggers your camera. In this way, everything is synchronized and processed in a fully automated way. All you have to do is to process the single images in post-processing with photogrammetry software.
Widely compatible with most cameras
Our motion controller can trigger most DSLR and mirrorless cameras with a simple shutter cable. If your camera has an external shutter release port, you can use it with our system.
Reverse scan function
Option to start a scan with reverse movement directions at the end of a scan for an even faster workflow.
App Preview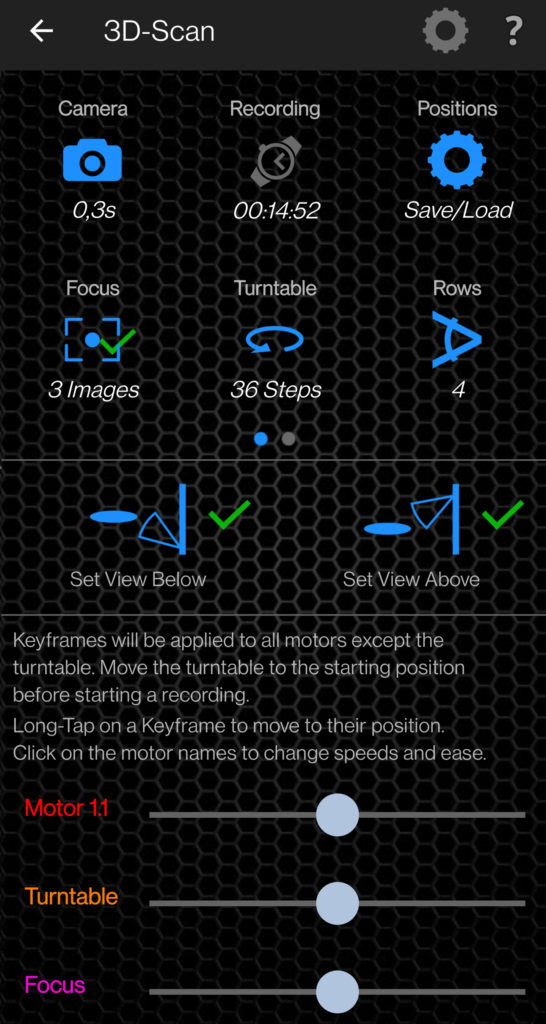 Intuitive user interface for adjusting settings, moving motors, and setting keyframes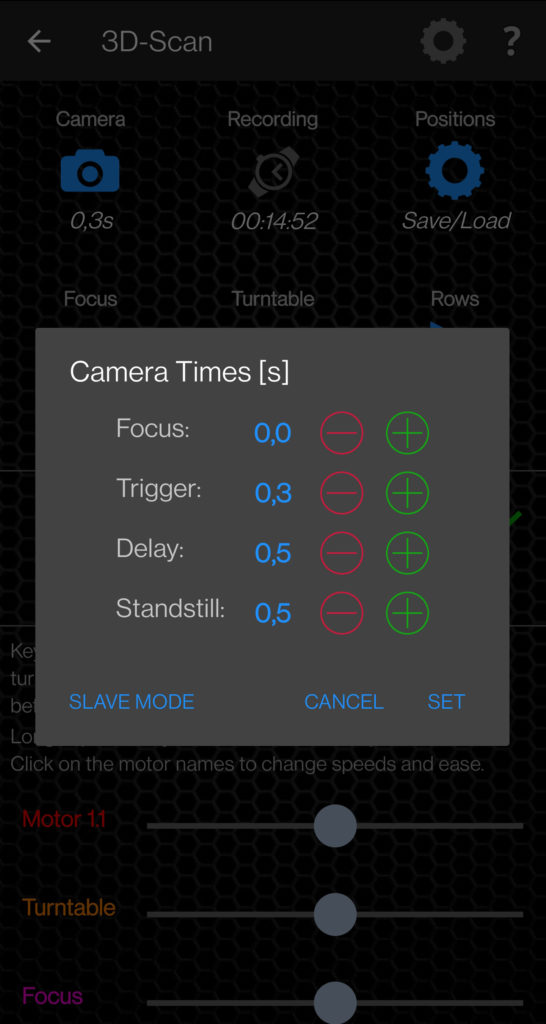 Define the number of images per turntable rotation.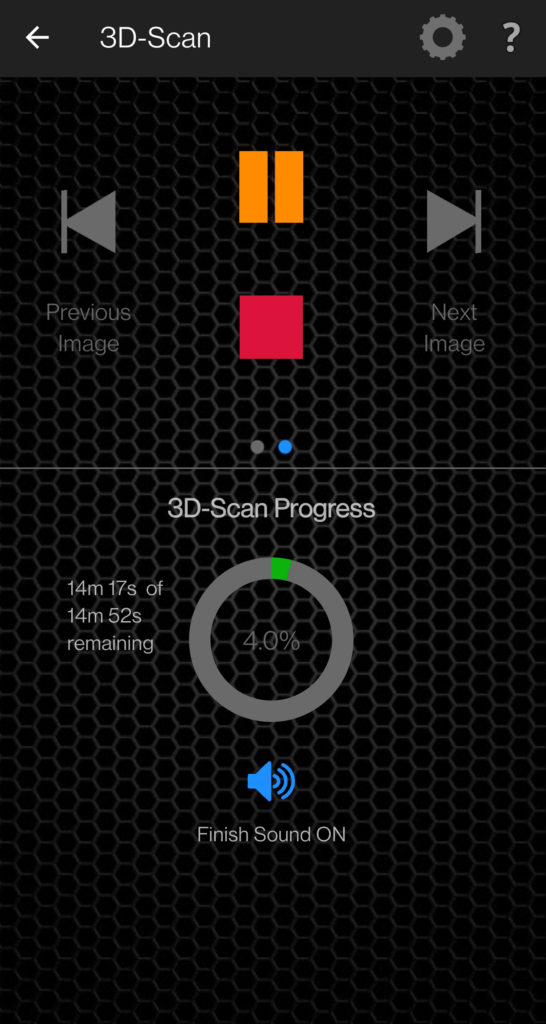 See the progress of your scan.
Products for the 3D-Scan Mode
For 3D scanning applications, we recommend the 3D Scan Bundle. This is especially suitable for the automated acquisition of images for reconstruction by photogrammetry. Of course, 3D scans can also be made with other bundles. In this case, we recommend the purchase of the turntable.
More Applications
Macro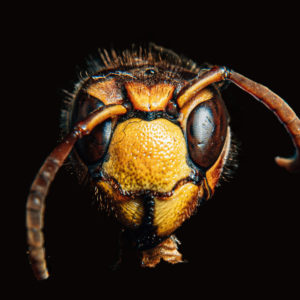 With our high-precision macro slider and our PINE Controller, several macro images of a very small object can be created fully automatically. The slider moves in small steps towards the object. By focus-stacking (overlazing of the single images) images with enormous depth of field are created.